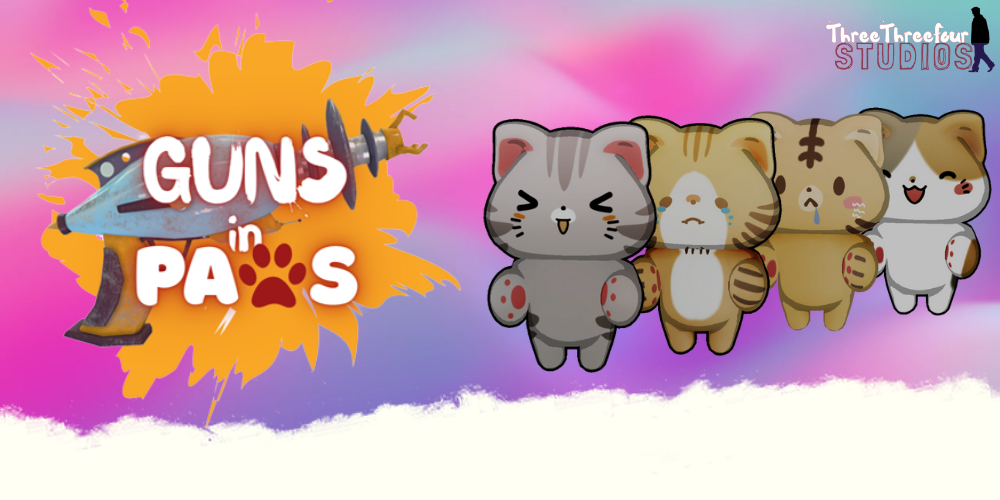 Guns in Paws
WHAT'S NEW? (v0.05)

New Game Mode Added - SCORE TARGET! First one to reach the score target wins the match.
Room hosts can now customize the following room settings: Game Mode, Mode Settings (i.e. target/timer), and No. of maximum players.
Edit Username option is now available on the menu screen.
Major lag compensation.
Fixed some minor bugs.
---------------------------------------------------------
What if the moody cats got Guns in Paws?
Experience the clash among them and watch them splash each other.
A cute multiplayer online battle arena game (MOBA)! Play with friends in fast-paced PvP action, to see who can become the top player in under three minutes.

🏆 REAL-TIME MULTIPLAYER BATTLE!
Battle it out online against your friends! Each round consists of up to 5 players in a free for all deathmatch, whoever gets the most kills in three minutes is the winner!

✨ REFILLING STATION
Race to the refilling station, sneaking from everyone to get your ammo reloaded.

😼 DIFFERENT MOODS
Choose your own mood and express the reason to splash your cat friends. You Happy? You splash 'em. You Sad? You splash 'em. You Excited? You splash 'em. You Hungry? YOU DEFINITELY SPLASH 'EM.

Guns in Paws is a truly unique and fun way to play PvP with friends. Download now to get in on the action!
Note: We know you might experience a lot of bugs in our game but we promise to update the game constantly for you to get an amazing experience with this.
Feedback and Comments are highly appreciated.
Thank you for playing our game.
Love from ThreeThreeFour Studios. 🖤
Install instructions
Extract the files and look for the GunsInPaws.exe file.
Run the file to start playing.
Note: If your Windows Firewall is suspecting the file as dangerous or something like this, just click on More Info and Run Anyway (because we know you trust us! XD)